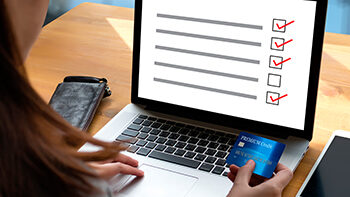 Paid surveys are a great way to earn extra income, as they can generally be completed within five to 20 minutes. The longer the survey, the better the benefits including cash payments, gift card payments and even entries into sweepstakes where winners will receive hefty rewards such as paid vacations, electronics and larger cash prizes.
Generally, you will not become rich taking paid surveys, but you can earn extra income for your time and opinions. While you may have heard of survey taking, there are a variety of ways that you can maximize the amount of income you receive including ensuring the accuracy of your profile, creating a dedicated email and creating a Paypal account. It is also important to understand how surveys work, including eligibility and the marketing techniques that make paid surveys possible.
To learn more about how you can get started on paid surveys, review the information that has been provided within the sections below.
Taking Paid Surveys
If you are interested in taking paid surveys, it is important to understand how paid surveys work and why they have become so popular over the years. Every month, thousands of new survey takers are attracted to one of the countless survey websites that can be found online. While taking paid surveys will not make you rich, it can help you to gain extra income. Paid surveys are available in such large quantities due to the fact that statistics show that it is one of the best marketing techniques for companies. By relying on the data that is gained from survey takers, a company can improve their future products and services. Therefore, it is a win-win scenario between you, as the survey taker, and the company providing the survey. With so many businesses and industries that participate in paid surveys, a paid survey website will generally have thousands of surveys at their disposal for you to participate in.
A legitimate paid survey website will never collect fees from you, including membership fees or participation fees. If you would like as many survey opportunities as possible, it is recommended that you sign up for multiple paid survey websites and subscribe to their digital newsletters in order to receive notifications about new surveys that you may be eligible for. Popular survey websites include:
Swagbucks
Toluna
Vivatic
MySurvey
YouGov
Panel Opinion
Surveybee
When considering different paid survey websites, it is important to review the benefits of a survey, as well as the amount of surveys a website has to offer. While most surveys are paid, others may include sweepstake drawings for large prizes such as vacation getaways.
Who is Eligible to Participate in Paid Surveys
While paid surveys are perfect for students, part-time employees, stay-at-home parents or anyone looking to make extra income, there are a few regulations for paid survey eligibility, particularly when it comes to age. In order to participate in paid surveys, you must be at least 16 years of age. However, it is worth knowing that some paid survey websites or surveys themselves will require that you be at least 18 years of age.
Your Survey Site's Profile Questionnaire
When you sign up for a paid survey website, you will be required to complete a profile questionnaire. This questionnaire is important and it is crucial that you provide honest information in order to be matched with the surveys that you may be eligible for as well as ensure that you are paid for your time. The more information that you provide the survey website, the more relevant surveys that you are likely to receive. Therefore, providing more detailed information increases your chances for qualifying for surveys that you attempt to take.
The first pieces of information that a paid survey website will obtain from you is your name, address and your contact information. This will allow the survey website to pay you and contact you in regards to larger prizes, such as if you win a sweepstakes. You will also be required to provide your date of birth, gender, education level and employment status as these types of questions will help the paid survey website determine the demographics that suit you best. Lastly, every survey website will inquire about your household's makeup, including the ages of everyone in the household and if there are any children living within the household.
All of the information that is gathered will be used to determine your eligibility for surveys, thus making it vital that you provide accurate information. For example, some surveys may be targeting specific age groups or catering to a specific gender, while other surveys may require that you meet certain educational levels or that you are in a specific field or career.
Why You Might Not Qualify for a Survey
Sometimes you may receive a paid survey invitation and, upon answering a question or two, you may be informed that you are not eligible to complete the survey. In cases such as these, your questionnaire profile may have indicated that you may be eligible, but the advertiser had more specific requirements that needed to be met. Advertisers and businesses have limited budgets and they will only pay survey takers who meet these additional eligibility requirements. Rejections are not uncommon, but fortunately, you can expect to be informed early on in the survey that you are not eligible. Try not to let these rejections discourage you as there are thousands of surveys and you will not be eligible for all of them.
Tips and Tricks When Taking Paid Surveys
If you would like to maximize your paid survey payments, there are a couple of additional steps that you can take. It is recommended that you set up a dedicated email account for paid surveys and turn the spam filter on the email account to off. Paid surveys are often viewed as spam and if you utilize your primary email for paid survey websites, you will likely either get a lot of spam that is not related to surveys or, if your filter is left on, mot receiving notifications for the surveys that you may be eligible for. You should also consider creating a free Paypal account, if you do not already have one, as most survey sites will offer payments through Paypal. You can expect to receive your payments faster if you take advantage of this feature. The last and most important tip is that you never pay for a survey or pay a membership fee. Legitimate paid survey companies and marketing campaigns will pay you for your opinion. You should never have to pay to provide your opinion.
By Melanie Henson –