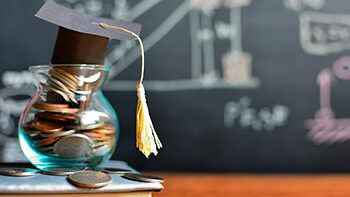 It is no secret that getting a university-level education in America is expensive. But just because you may not have enough money out-of-pocket to pay for tuition costs, it does not mean that you cannot still get help and receive a quality education. That is why the federal government and the private sector have created easy and comprehensive ways for students to take out loans for the express purpose of attending higher education.
Many students go into the loans process without fully understanding what to look for in a loan, and therefore get stuck with less-than-ideal plans and poor interest rates. By doing your research ahead of time, student loans do not need to be a crippling weight; instead, they should open up many possibilities that you might not be able to achieve without a degree.
What are student loans?
It has been established that college is not for everyone. If you are looking to get into a field that does not require a college degree, you can save thousands by simply going straight into the workforce and starting to build your career. If you are interested in a college or university path, student loans can make these institutions of learning more accessible. These varying amounts of money are provided by loan agencies to those in need of higher education financial aid.
Student loans are meant to be a powerful tool that you can utilize in order to cover many of your student debts, but they are not the only solutions. Your first priority as a student should be to see how many grants and scholarships you are qualified for, as these are free gifts of money that you do not need to repay. After you have exhausted these options and your tuition debt is still higher than what you are willing or able to pay outright, you should take a look at what student loans might be able to do for you.
How Student Loans Compare to Other Loans
Student loans may be regulated through different agencies than other kinds of loans, but they are more or less comprised of the same basic ideas. Namely, they are amounts of money that are borrowed, with an added percentage of interest added on to the total loan debt every month. Compared to other loans, however, student loans are:
Lower-risk. Many student loans have a lower cost than others, and also lower interest rates that are generally fixed (as opposed to some personal loans, which have varying interest rates depending on how long you have had them). If you have a high credit score, you may even be able to get subsidized student loan interest, which is paid for by the federal government.
More accessible. However, you are not required to have a high (or even an existent) credit score to get many types of student loans. So, getting these loans can be easy, and can even help you to build up your credit score from the ground up if you make accurate and consistent payments.
Flexible. Student loan agencies often realize that their biggest clients are jobless college students – so, they usually do not require any action to be made toward repaying these costs until after you have graduated. Some programs eliminate interest costs until you have graduated, and can even waive your debt altogether after many years of consistent payments.
Thanks to these factors, student loans are often considered to be some of the most beneficial types of loans in terms of giving "good debt" – this means that even though they are expensive and can take a while to pay off, you are still receiving a worthwhile trade in the form of a good, potentially lucrative education.
Types of Student Loans
The first major distinction to make between different forms of student loans is that there are federal government student loan agencies and private student loan agencies. Through the federal government, students can get student loans (as well as free grants and scholarships) via their Free Application for Federal Student Aid (FAFSA) program. But while this program can cover a large percentage of college debt, it can often only be the first step in your search process. Private loan agencies can offer supplemental student loans, especially if your FAFSA coverage does not extend to all of your tuition costs.
Among the different types of specific loans that are available to students, you may have access to the different types of loans below.
Perkins loans are perhaps the most common student loan type, and this type of loan is from the federal government. They are need-based, meaning they are in limited supply and only go to those students who have demonstrated that they need them the most. However, those who qualify for them will receive high amounts of aid at low interest rates, and do not need to worry about low credit scores preventing said aid.
Stafford loans are slightly different, in that they are available to a wider group of students (including graduate students). They may be slightly harder to qualify for than Perkins loans (though not by much), and they are usually able to provide higher amounts of aid per student. Stafford loans are also offered by the government.
Consolidation loans are able to combine the debts from multiple different student loans into one bigger, although much more manageable, loan. These can even provide students with better interest rates than they were previously getting, depending on whether or not they qualify.
PLUS loans are student loans that can go to parents of students, in order for them to be able to pay for bigger school expenses for their child. PLUS loans are government issued, and graduate students can qualify for this type of loan. This requires a good credit history.
Private loans are student loans that come from private companies. These are more often credit-based than federal student loans, and are designed to cover what federal coverage does not. While most of these organizations can have good intentions, some do not – therefore, it is crucial to be extremely cautious and do ample research when taking out a student loan from a private company.
How to Apply & Pay for Student Loans
To access federal student loans and other types of federal funding, you must fill out the FAFSA form every year that you want federal loan coverage. This can be done online or by mailing a completed application to the Federal Student Aid Programs agency. In your application, you will need to provide your identifying information (name, date of birth, Social Security Number and more), information about your high school and college, and information specific to (and provided by) your parent(s) or legal guardian.
For private student loans, however, you will need to follow you specific lender's application procedures. Most of these lenders will have similar rules and regulations to the FAFSA, but they may ask for different kinds of documentation as well. Be sure to ask your lender for any special application instructions that they may require.
Once you have begun receiving your student loans from any eligible provider, you will receive notice of how much aid you will receive, as well as information regarding when you will be held responsible for beginning to make payments. Your loan provider will likely have special instructions regarding making these payments – but once you have started doing so, you will be on your way to paying for the education that you have worked hard to achieve. After you graduate, you should make sure to follow money-saving tips to help you make full and timely loan payments.
By Alfred Wickham –