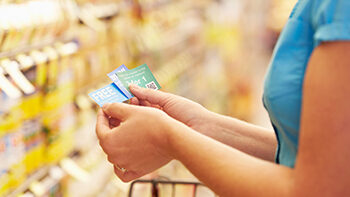 Grocery coupons are one of the best ways to save money and when used alongside sales and rewards programs, you stand to save a lot of money with each shopping trip to the grocery store. In order to maximize the savings that you can obtain with grocery coupons, it is important to first understand how to redeem coupons and where to find the important details of a coupon that will inform you of where a coupon can be redeemed, the coupon's expiration date, the value and savings the coupon offers, the specifications of the product that the coupon can be redeemed for and the barcode and barcode number that is needed for redemption.
To learn more about grocery coupons and other ways that you can save money on your next trip to the store, review the information that has been provided in the sections below.
How to Utilize Grocery Coupons to Save Money
One of the best ways to start saving money at the grocery store is by clipping coupons. Essentially, a coupon is a voucher that can be used to receive a discount off a particular product or brand. In some cases, this discount may be a specified dollar amount or the coupon may offer you a free product if you purchase one of equal or greater value, which is often called "buy one, get one free."
If you are new to couponing, it is first important to understand the difference between a store coupon and a manufacturer's coupon. A manufacturer's coupon can be used at any store that accepts coupons as the store is refunded by the manufacturer for the discount amount. A store coupon can only be used within a specific store location as the retailer is paying for that discount. Whether or not the coupon is a store or manufacturer coupon will be displayed on the coupon, itself, typically in the corner of the coupon.
After you have obtained a coupon, it is crucial that you review the information that is displayed upon the coupon, including:
Whether or not the coupon is a manufacturer's or store coupon.
The expiration date of the coupon.
The savings amount that is applied to your purchase with the redemption of a coupon.
The product's description and quantity requirement for the coupon.
Coupon limitations.
The barcode and barcode number.
The expiration date of the coupon is one of the most important details to pay attention to when clipping grocery coupons. A coupon can only be redeemed through the date that is displayed and expired coupons are one of the most common reasons that a coupon is not applied to your purchase. The product's description and quantity requirements are another key part of the coupon's redemption. Coupons will generally specify a specific brand, size and variety of a product. In order to save money with grocery coupons, your purchase must meet those exact specifications. There are also some coupons that will display a quantity requirement, such as "buy two and get the third half off" In cases such as these, you would need to purchase a total of three of the same product in order to obtain the value of the coupon. Grocery coupon limitations work in much the same way. Some coupons will limit the amount of coupons that can be redeemed for a particular product, such as one per customer.
Finally, the barcode and barcode numbers allow for a coupon to be redeemed at the grocery store or online. If shopping in the store, the cashier will typically be able to scan the barcode that is found at the bottom of the coupon in order for your savings to be applied to your purchase. If the barcode is not working, they can generally manually enter the barcode's number. If you are purchasing groceries online, you will need to use the barcode's number in order to redeem the coupon.
If you cannot successfully redeem a coupon, there may be a variety of reasons why this could be happening. As stated previously, one of the most common reasons that a coupon may fail to be redeemed is that the coupon is beyond the expiration date. If a cashier scans a coupon or attempts to enter in a barcode number manually, the register will automatically disregard the coupon if it is beyond the expiration date. Other common errors include not having entered in the barcode number correctly, not meeting the coupon's quantity requirement or limitations and that the coupon you have obtained is fake.
Shop Weekly and Monthly Ads at Your Favorite Location
Stretch that dollar further by perusing your favorite grocery store's weekly and monthly ads. Most grocery stores are very competitive with their pricing and are determined to earn and keep your business. Therefore, value sales are often offered on a weekly or monthly basis, depending on the location. Most grocery retailers have mailed advertisements that you can request in order to receive notifications of upcoming sales. These advertisements may include coupons, sale items that do not require grocery coupons or both. While printed advertisements offer a variety of saving opportunities, you can usually find even more on a retailer's website.
Take Advantage of Any Available Rewards Programs
In addition to grocery coupons and weekly advertisements that most grocery stores offer, there are many stores that also include rewards programs that can boost your savings. Rewards programs will often work in a variety of different ways as there is no cut and dry rewards program that works for every store. Some grocery stores offer a fuel saver rewards program where you earn discounted gasoline prices for qualifying purchase. By combining the savings offered through a rewards program, sales and grocery coupons, not only does a retailer make more money, but you save more too!
Another great example of a rewards program comes in the form of Balance Rewards by Walgreens. In reward programs that are similar to the one Walgreens has to offer, you incur points based upon your purchase amounts. These points can then been redeemed for exciting discounts off of future orders.