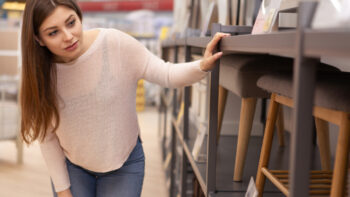 Whether you own a house or rent an apartment, properly furnishing your home is important. Unfortunately, buying furniture for your home can become expensive, especially if you want to buy all your furniture immediately. You do not have to be a new homeowner to purchase furniture.
Perhaps you are looking to replace an old couch or upgrade your existing bedroom furniture. In some cases, you may just be hoping to redecorate.
Even if you are shopping on a tight budget, you can still find affordable furniture by timing when you make your purchases. Purchasing furniture requires doing some research, as certain pieces are cheaper depending on the time of year you look for them.
In general, if you want affordable furniture, you should plan on not making all your purchases at once. In a few cases, you may get lucky if you are only looking for select furniture pieces, especially if they are for one room. But to get the biggest bang for your buck, find out what times of year certain pieces are available for a lower price.
General Tips
Furniture is a big purchase, so if you are finding you are not happy with what is in stores, be patient. Sales pop up in the furniture industry all the time. A good way to ensure you do not miss out on a deal is to find a piece you like online and monitor the price regularly.
Related Article: Ways to Save Online
Some of the best times to look for sales are after major holidays or right after a seasonal change. Once the season changes, many stores offer sales on items from the previous season because they do not want to store all their unsold items. For example, if you want to buy outdoor furniture, wait until the start of winter. You may not be able to set up the furniture until spring rolls around, but you can buy your furniture at a heavily discounted price.
If you are looking for new furniture, make sure you take the time to check multiple stores. Use a mixture of online stores and physical locations. When you are talking with a sales associate in a store, be sure to speak up if you feel the price for the furniture piece is too high. You may get a deal this way, depending on the store. This is especially common with smaller, local furniture stores.
Indoor Furniture
Indoor furniture can make or break a room in your home. A new couch, end table or lamp can brighten and revive the look of your space. New styles of indoor furniture tend to hit stores in spring and fall. If you are looking to get the best deal, start shopping in the months leading up to spring and fall, before the new styles actually launch. Furniture retailers tend to discount their current stock to make room for the new stock. To find the best bargains on indoor furniture, you need to compare prices.
Overall, the summer tends to be the best time to buy indoor furniture. If you decide to shop for indoor furniture in July, you may find compelling Fourth of July sales. New furniture inventory drops around mid-to-late August. Additionally, January is a good time to consider buying indoor furniture, as new inventory typically drops in February.
If you are someone who tends to wait until the last minute, you may find residual deals in early February. However, if you do not have time to shop in January, February, June or July, it is wise to wait until other holidays or a retail store clearance event to make a purchase.
If you are looking for office furniture specifically, timing your shopping trip may be more difficult. Markdowns to office furniture usually pop up in late spring around April and May. Office furniture is discounted with office supplies in August as well, as the back to school season begins.
Outdoor Furniture
Outdoor furniture can be the most fun furniture to purchase. Maybe you are looking to host a backyard party or invite friends over to swim in your pool. The best time to purchase outdoor furniture is between the end of summer and beginning of fall. Good reference points for this time of year are between Fourth of July and Labor Day. Retailers tend to discount prices on patio furniture like tables, chairs and cushions.
The downside of buying outdoor furniture during this time of year is you likely have to wait an entire year before putting it to use, depending on what the climate is like where you live. Retailers are typically looking to clear out their stock around late August. If you decide to buy outdoor furniture in the spring or beginning of summer when it is in high demand, you could pay a much higher price.
Custom Furniture
When you begin your furniture shopping journey, make sure you know the difference between pre-made furniture and custom furniture. Seasonal discounts rarely apply to custom-made furniture, since custom furniture is an entirely different market. Getting furniture custom-made is almost always more expensive than buying pre-made furniture.
The best way to get discounted rates on custom furniture is to place an order when the creator is not busy, as he or she is more likely to accept a lower price since otherwise he or she is not making any money. Unfortunately, predicting when a furniture maker has downtime is difficult, since it largely depends on where he or she lives. It may be worth monitoring a local custom furniture maker's social media accounts when possible to see when he or he is offering discounts or appears less busy.
Used Furniture
If you want to buy the cheapest furniture possible, your best option is to purchase used pieces. There are several online marketplaces you can use to purchase used furniture. You can also look for local sales in your area.
Estate sales are a good opportunity to purchase used furniture. The timing for used furniture follows similar cycles as local stores. For the best results, purchase furniture offseason. Many homeowners want to get rid of their furniture to free up storage space, so they are willing to sell their furniture for a lower price.
If you know someone in your neighborhood is moving, check to see if he or she is planning on selling any furniture. Many families purchase brand-new furniture if they are moving far away, meaning they have a limited window to sell their existing furniture.
Related Article: 7 Red Flags When Buying Something Secondhand
By Mathew Sams –