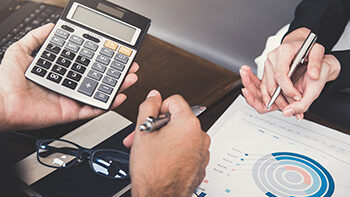 No matter the stage of life, every person has financial goals. For some, it may mean paying off their student loan debts. For others, it may be purchasing their first home or saving for retirement. Whatever the goal may be, financial planning helps individuals achieve it. There are several aspects to a financial plan, and since they depend on an individual's or family's financial situation, no two plans are alike.
What is financial planning?
Financial planning is the process by which an individual plans and evaluates current and future financial situations. These plans help individuals and households make sensible financial decisions on the way to their financial goals. While it is widely believed that financial planning is only for wealthy investors, it is a beneficial tool for anyone, regardless of what his or her finances look like. Studies show that financial planning can help anyone at any income level.
Making a financial plan often involves the use of certain approaches, such as budgeting, saving, managing debt and other financial planning basics. There are several aspects to consider before creating a financial plan, but your financial goals are the most important. Financial planners can help you determine what your goals are and advise you during the planning process. Financial plans can be created with or without the help of a financial planner, but doing it with the help of one can prove to be helpful.
How to Create a Financial Plan
Creating a financial plan is a great first step in achieving long-term financial goals. Having a plan can help you prepare for major life events or have money set aside for emergencies, such as a medical or home expense. Financial plans help guide you through the small steps that need to be taken to arrive at the goals you set. These plans are fluid, and can change as goals and dreams change over time.
There are several steps involved in financial planning, but the first and most important step is deciding on your financials goals. The more specific the goals are, the better an idea you will have on where to take your plan and ow to complete your goals. For example, if the goal is to save for retirement, make sure to be specific about at what age you would like to retire and what you would like to do during retirement. Such planning can help you create a more detailed course of action when setting aside saving or making financial decisions for your household. Once the financial goals have been determined, it is time to begin planning steps towards those goals. The steps to creating a financial plan are:
Gather information – Before writing a financial plan, it is important to have certain information and data on hand. Keep personal information handy, such as annual income, savings and any investments. Other information to keep in mind includes when you are eligible for Social Security or retirement pensions.
Evaluate the information – Take a look at the information collected and see if it aligns with your plans. Will you meet your goals if you continue on the path you are currently on?
Develop the plan – With the information available, determine what steps need to be taken to meet the goals that are set. Make sure the steps are achievable and can be met consistently. You can apply the plan to any area of personal finance, such as budgeting, investing and retirement.
Carry out the plan – Once your goals and steps are set in place, it is time to follow the plan. For many, this is the most difficult part of financial planning. The key is to start small and work at taking steps slowly.
Adjust the plan – Sometimes, financial plans require a little refinement. The plan that was created might not be achievable anymore, a situation in life might change or perhaps the market has changed. Financial plans are flexible, and can be adapted to all of life's changes.
Benefits of Financial Planning
While having financial goals is important, having a road map to those goals can be equally as important. Financial planning provides the steps necessary to arrive at or surpass those goals, and allows you to measure the progress made.
Financial plans also help you take on your finances as a whole and give you a clearer view of your financial situation. If there are ways to make better use of your money or risks you have not identified yet, the process of financial planning can help to reveal those things. In the long run, financial planning facilitates in achieving your financial goals, whether it be to get out of debt, save for a house or for starting a family or planning for retirement. Financial planning can help you evaluate your assets and resources so you can better understand your financial situation.
Choosing a Financial Planner
Though making a do-it-yourself financial plan is possible, it is not be the best choice for every financial plan. While there are many kinds of financial planning software available for those who choose to plan on their own, working with a financial planner is beneficial for those who are starting the planning process. Do-it-yourself methods risk oversight, errors and missed opportunities. Financial planners advise their clients on how to best approach their financial goals, and offer professional insights a client may not become aware of alone.
When choosing a financial planner, there are certain considerations to make and qualities to look out for. There are individuals out there who call themselves financial planners, but are not certified. When looking into a financial planner, make sure he or she is a Certified Financial Planner (CFP). This certification, awarded by the Certified Financial Planner Board of Standards in the United States, requires financial planners to meet the board's education standards, pass a certification exam and demonstrate the appropriate amount of professional experience in the field.
Financial planners are known to charge for their services differently. Some charge an hourly or flat rate for their services, while others may work for commissions. The commissions some financial planners earn come from selling certain stocks or investments to their clients. It is best to avoid planners that earn commissions, as they may not offer unbiased information.